Can The Bucs Beat Josh McCown?
August 29th, 2015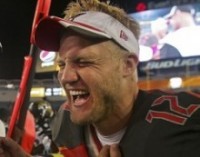 You want a preseason test to see if your Buccaneers are a new team in 2015? Here you go.
In comes journeyman Josh McCown and the Browns tonight. McCown is even a little banged up.
Week 3 of the preseason is the "dress rehearsal" for the regular season, as teams like to say. It's one half of real football with first-team players.
McCown stinks. Lovie Smith, the new Bucs defensive playcaller, knows McCown inside and out. So do his starting cornerbacks.
If the Bucs don't know how to beat career-loser McCown at home, then Joe's not sure what to say. The Bucs' first-teamers should at least walk off the field with a tie game tonight at the Stadium on Dale Mabry Highway.
Many Buccaneers have talked about how their pride is a factor this season, wanting to rid the terrible taste of last year from their mouths, that their pride and professionalism was sickened by what happened in 2014.
Well, guys, there would be no greater symbolism than to spank the man who, along with Michael Johnson, helped suck this team into a black hole.