Bucs Sign Starting Right Tackle Gosder Cherilus
August 17th, 2015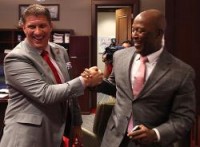 Chiefs left tackle Eric Fisher went down in practice today, and it seems that brought the simmering market for free agent Gosder Cherilus to a full boil.
The Bucs have been winning contract battles for veteran free agents lately, and they scored another one late this afternoon. Cherilus, an eighth-year right tackle and a 2008 first-round pick of Detroit, is now a Buccaneer.
Cherilus, 31, started 29 games over the past two years for the Colts, but was released in July after a knee concern. Hey, Joe didn't see Andrew Luck getting flattened left and right.
Joe was told the Colts were interested in bringing back Cherilus at a lower salary, among other teams in the market checking him out.
With Demar Dotson at least until October following a serious knee injury Saturday night, the Bucs made the wise move here.
Cherilus is expected at practice tomorrow.