Buccaneers Sign Lavonte David: $10 Million Per Year
August 9th, 2015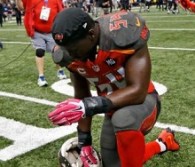 Celebration time, Bucs fans.
Team Glazer has rewarded Lavonte David for three stellar seasons.
Per NFL Network, the five-year extension for David is worth $50 million, $25.56 million is guaranteed.
It's a whopper of a deal, and matches what Joe said David was seeking several weeks ago based on market value.
No wonder Lovie was putting huge goals on David's back today at his post-practice news conference.
Wise move. The Bucs had no choice but to lock up a great player who has been a good citizen. This is how you build a lasting contender. And a great quarterback helps, too.