An Outcoached Admission?
August 6th, 2015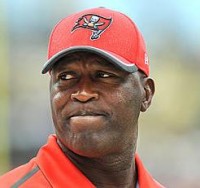 The Buccaneers weren't the worst team when it came to notching sacks last year. Tampa Bay was 21st in the league with 36.
However, the Bucs' pass rush was anemic.
Lots of quarterbacks were extraordinarily comfortable and threw for tremendous percentages against the Bucs. Take Matthew Stafford of the Lions. He was a stunning 26-of-34 with three touchdowns and no picks. Stafford was sacked four times, but they were irrelevant in a game dominated by a balanced Detroit offense.
Evan Panthers backup Derek Anderson was extraordinarily comfortable, completing a whopping 66.2 percent of his passes in two full games against the Bucs.
Puking Andy Dalton? He completed better than 70 percent of his passes against Tampa Bay. Aaron Rodgers? Try 77.5 percent. Joe Flacco checked in at 75 percent. There were others.
Lovie Smith was asked about generating a pass rush the other day and delivered a somewhat odd answer for the head coach.
"Well, you evaluate what you do every year. We, Coach Frazier, our defensive staff did that of course, like we normally do. Again, how are we going to get more sacks first is the four-man rush. From that we can do an awful lot of things," Lovie said. "Yes, and of course, I can't really talk about what we are going to do, but trust me, we realize we didn't get enough pressure last year and we're going to do some things to make it better this year, whatever we need to do."
That sure sounds like Lovie admitting he was outcoached last year when it comes to his pass rush. Lovie saying "we can do an awful lot of things" sounds like a guy who knows he didn't do them in 2014.
The Josh McCown-Jeff Tedford nightmare was one thing, but what deeply troubled Joe last year was the Bucs' inability to adjust defensively. Just the fact Anderson burned them twice — in nearly the same way — was inexcusable.
It's a new year with some new bodies and a head coach and defensive coordinator intimately familiar with the personnel. No more excuses for the Bucs' defense. It's got to at least be average.