About Those Penalties
August 25th, 2015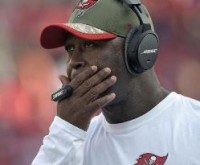 In the Bucs' locker room last night, Gerald McCoy had a little playful fun with rookie guard Ali Marpet. Various players were talking about penalties, and Marpet was smiling.
McCoy shot a look at him and said, "What did you get?"
"Hands-to-the-face," Marpet said. McCoy hung his head and shook it a few times and Marpet busted out one of his trademark, ear-to-ear grins.
Nothing was going to puncture the happiness pulsing through that locker room.
Joe surely doesn't want to rain on the euphoria sweeping the Tampa Bay area — the Bucs won a game, the Bucs won a meaningless game! — but it wasn't all roses last night. The Bucs officially were smacked with 14 flags for 153 yards. And there were more that didn't count.
Those are ugly numbers. In a real game, mistakes often kill. And penalties forcing long passing downs often get quarterbacks killed. The Bucs had their share of those last night.
"We'll clean it up" is what will come from One Buc Palace today. "Simple as that," as Lovie Smith says.
Joe hopes Lovie and his team can restore the on-field discipline quickly. Lovie takes pride in having "stern teachers" throughout his coaching staff. They should be able to instruct the messiness right out of these Bucs.