"We Haven't Had To Have Any Interventions"
July 29th, 2015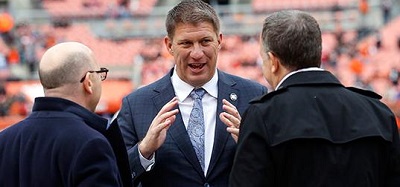 The Bucs' 2015 rookie class hasn't put pads on yet, but there are positive signs across the board.
It's noteworthy that none has raised a red flag since joining the team, general manager Jason Licht said last night.
Licht, an NFL personnel man for nearly 20 years, said it's typical for at least one draft pick to have management concerned as the start of training camp nears.
"A lot of times, this time of year, you have some concerns about one [draft pick], whether they just didn't look as fast as you thought they were, or they weren't as athletic as you thought they were, or they weren't as athletic as you thought they were, or they weren't as smart, or they just come in with a poor attitude," Licht told Joe and other reporters Tuesday evening. "So all of our guys right now, just based on what we've done in May and June, there's no signs of that. I'm not saying that they're all going to make the team for sure, and they're all going to be starters and all that. But they're all on the right track. We haven't had to have any interventions with any of them."
Licht said the team is brimming with confidence when it comes to its rookies, and he didn't back off the likelihood that Ali Marpet and Donovan Smith would be starting on the offensive line.
Of course, when Licht talked about no concerns or interventions this year with rookies, Joe immediately wanted to ask about last year's draft class. But Joe decided to lay off and give Licht a break, and let optimism flow.
Besides, just because a rookie needs a wake-up call in July, that doesn't mean he is doomed.