Three-Win Bar Set For Lovie Smith
July 6th, 2015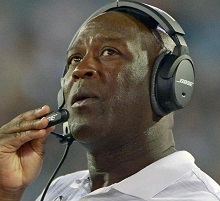 Regular readers here know there's a massive argument happening at JoeBucsFan.com world headquarters regarding Lovie Smith's job security. No need to rehash.
But now a former Buccaneer has weighed in on the debate, via a national stage.
Booger McFarland, the Bucs' Super Bowl-winning defensive tackle, believes Lovie has a secure job and will return for 2016, as long as basic parameters are met.
During a discussion of Lovie's job security on SiriusXM NFL Radio last week, Booger drew a line in the sand.
"Lovie's got to show improvement, though. I mean, he can't come out and go 2-14 again," Boogers said. "He's gotta show improvement. I think the Glazer's have often said all they want to see is improvement. And I think he'll do that."
Joe thinks Lovie will deliver an improved team, too. And the Bucs should be good enough to win six games, which isn't exactly a monumental task in the NFL.
Heck, the Vikings won seven games last year with a rookie head coach, a new defense to adjust to, a rookie quarterback, and without their top offensive weapon. And the Packers and Lions in their division were better than anything the NFC South had to offer.