No Supplementing For Tampa Bay
July 9th, 2015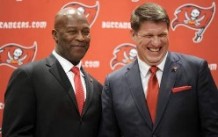 Yes, there are thousands of deranged, bored Bucs fans hanging on the happenings of today's annual NFL Supplemental Draft.
But Joe, the Bucs might draft the next Dan Sileo, their supplemental pick in 1987.
The big prize of this year's supplemental draft is said to be left tackle Isiah Battle out of Clemson. He's a talented project with personal issues. Wherever a team might draft Battle — first claim gets him — that represents the draft pick the team would lose in the 2016 NFL Draft.
So if he's there for Tampa Bay in, say, the fifth-round, then the Bucs would lose their fifth-round pick next year, if they selected Battle.
Per various experts on SiriusXM NFL Radio, Battle will go in the fourth- or fifth-round. Don't expect the Bucs to be interested. With the No. 34 overall pick in rookie Donovan Smith, and Kevin Pamphile, that's two very young left tackles in the mix already. The Bucs have no pressing need to add another developmental player at the position.
As for the six other guys in the supplemental draft, again Joe has little reason to believe the Bucs are interested in any of them. NFL.com projects they'll all be free agents by this afternoon.