Jason Licht Laughs At QB Competition Question
July 29th, 2015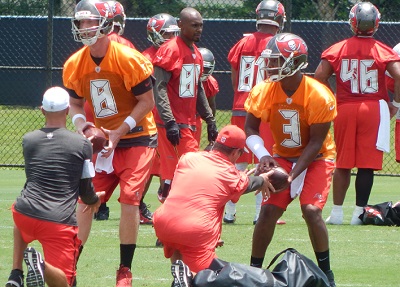 Yesterday might have been the second worst day of 2015 for the Mike Glennon Mob.
On live radio, WDAE-AM 620 to be exact, Bucs general manager Jason Licht laughed at the suggestion that Glennon would compete to start at quarterback.
Yeah, literally, Licht laughed.
Host Steve Duemig was talking with Licht about competition at linebacker with rookie Kwon Alexander, and then he asked Licht the following:
Duemig: No competition at the quarterback position?
Licht: (laughs) Well, uh, (laughs). I'm not very good at playing poker. (Beaming) You know, come out to training camp Saturday. Let's see who's lining up behind center. You know, give you guys some incentive to go out there.
So what was the worst day of the year for the Mike Glennon Mob. That was six weeks ago, when Lovie referred to Glennon as "backup quarterback."
Joe sincerely hopes this ends the silly notion some cling to, that Glennon might start on opening day and will get a chance to win the job from Jameis Winston, America's Quarterback. It's pure fantasy.