Jameis Winston Enters At 6:40 A.M.
July 31st, 2015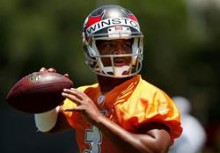 Buccaneers veterans reported for training camp this morning, but very few were there at One Buc Palace before Jameis Winston, America's Quarterback.
Jameis had a serious look on his face entering One Buc Palace about 6:40 a.m. He gave a simple "good morning" to reporters and went to work, as the rest of the Bucs trickled in for a team meeting at 8 a.m.
Leaner, meaner Gerald McCoy did not talk to reporters (very rare) and marched in to work with a gameday look on his face.
Joe's got video of Jameis below.