Football Trust Is No. 1 Issue For Jameis Winston
July 27th, 2015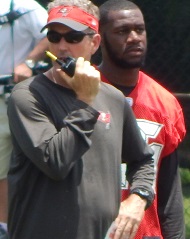 A former league MVP and star quarterback likes what he's seen, heard — and not heard — from Jameis Winston, America's Quarterback, this spring and summer.
Rich Gannon, who was hardly a big Jameis supporter a few months ago, says the off-field focus on Jameis has now shifted to the football field because he's earned that with his recent attitude and behavior.
Co-hosting on SiriusXM NFL Radio this afternoon, Gannon also talked about how Jameis' college numbers are too hard to ignore. And no, he wasn't talking about Jameis' big interception total last year. Gannon said Winston had the 10th best efficiency rating in college football since 1956.
Gannon said Jameis' development will hinge on how quickly he'll earn trust from receivers by not getting them killed with off-the-mark throws, and earning the trust of offensive linemen and his playcaller.
The offensive coordinator take is what interests Joe most, and the evolution of that relationship will be so key. Dirk Koetter won't be afraid to let Jameis loose (presumably Lovie Smith will steer clear), but he must trust that Jameis can execute.
Coordinators so often talk about putting players in positions to be successful. Well, if Jameis hasn't earned that trust, Joe has no doubt that Koetter will go into turtle mode until he does.