Can Dirk Koetter Fix Fourth-Quarter Blues?
July 14th, 2015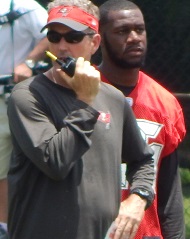 The Buccaneers gagged away leads last season left and right. Bucs officials publicly cite those close games and fourth-quarter leads as reasons for optimism. (Really, they do.)
So Joe decided to play stat geek and look at how new offensive coordinator Dirk Koetter fared in the fourth quarter last year.
Sadly, Joe learned that fourth-quarter blues really torpedoed Koetter and the mighty Falcons offense in 2014.
On opening day, the Falcons lost a fourth-quarter lead to the Saints on opening day, but Atlanta rallied to tie and then win in overtime. Hooray for Koetter!
But in Weeks 4 and 5, the Falcons blew fourth-quarter leads (Vikings and Giants) and were held scoreless in the final 15 minutes. They also were shutout in the fourth quarter in Week 6 (Bears), lost 29-7 to the Ravens in Week 7, and blew a 21-point lead against Detroit in Week 8. In that game, the Falcons were blanked in the second half.
Things got a lot better for Koetter and the Falcons offense after that, except for not showing up with the season on the line in Week 17, a 34-3 loss to Carolina.
There was a big discussion yesterday on offensive coordinators and head coaches choking away fourth-quarter leads on SiriusXM NFL Radio yesterday. Former NFL QB Jim Miller and ex-coach and Jets personnel executive Pat Kirwan dove into what made Bill Cowher so amazing in putting teams away, and they discussed how so many offensive coordinators play scared with a late lead.
Joe doesn't know what to make of Lovie and Koetter in that area. Both struggled last season, but have had success in other seasons.
What Joe does know is Matt Ryan is not on the Bucs roster. One of seven rookie QBs to lead his team to the playoffs this century, Ryan has been compared to Jameis Winston, so perhaps Koetter will find a rhythm with Jameis quickly.