Single-Game Bucs Ticket Sales Halted For Bears, Giants And Cowboys Games
July 23rd, 2015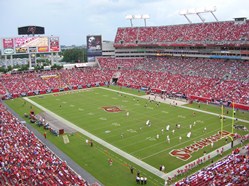 Man, Joe sure hopes the Bucs find a way to win a home game(s) this year, unlike in 2014.
At least the Den of Depression wasn't flooded too often last year — Packers crazies were the exception — with fans of opposing teams.
That won't be the case in 2015.
The Bucs have halted sales of individual game tickets to the Giants at Bucs (Nov. 8), Cowboys at Bucs (Nov. 15), and Bears at Bucs (Dec. 27). Today, Ticketmaster, the single-game processor used by the Bucs, has a message on the pages dedicated to sales of those games. It reads, "No seats from venue right now."
TicketMaster has plenty of tickets for those dates via its scalping fan resale option.
The lure of Jameis Wiston and Marcus Mariota facing off in Tampa on opening day has yet to sell out. And the Bucs have group tickets available for all dates.
For those looking for the best ticket deals. Check out Joe's friends at TicketMonster.com. All tickets are electronic download and there are no hidden fees.