Bearing The Burden
July 30th, 2015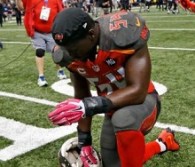 If only the Buccaneers had a dozen more guys like Lavonte David.
Remember when Alterraun Verner named David, not Gerald McCoy, as the hardest worker on the Buccaneers?
Well, David not only works hard, but he takes losing hard — and he puts it on his back.
Beat writer Rick Stroud apparently enjoyed a meal with David this week and shared some of their conversation, via TampaBay.com.
"Last year I missed a lot of opportunities, when I go back and look at myself on film, where maybe I could've forced a fumble or made an interception or get a sack," David said. "I was just a step slow, not knowing how the offense would block a play. I didn't make a lot of splash plays, the game-changing plays. The game is all about making a play. If I improve on that, maybe we can be 14-2."
Joe loves the nuance there of "not knowing how the offense would block a play." David demands so much of himself. It's refreshing. Perhaps he can double as an assistant offensive line coach.
Stroud's story revolved around the contract talks with David and the Bucs, which seem to be stalled. He could become a free agent after this season.
Joe's really not concerned about a deal getting done. If the Bucs want to keep David, then they'll have every opportunity to make it happen.