"All Five Receivers Open"
July 2nd, 2015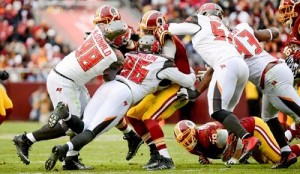 Those starving for football — the way Joe aches for the backyard and neighborhood-wide smells of grilled beef on Independence Day — will enjoy a new Xs and Os look at the last glory day of Tampa Bay Buccaneers football.
Yes, Joe's talking about a victory, that rare animal only seen twice last season — but not in Tampa.
The Washington Post film guru, Mark Bullock, broke down the Bucs' last win, against the Redskins at Washington in November. Of course, he's dialed in from the Redskins' perspective, but various looks show the coverage woes of the Bucs linebackers.
Here's one snippet backed up by a photo:
Washington gets a perfect look for this play. The Bucs run their Tampa 2 coverage. The safeties drop too far back, as do the flat defenders. Griffin quite literally has all five receivers open and a clean pocket to work from. All he has to do is throw one of the corner routes for an easy first down.
Hey, five receivers open. That's hard to ignore. Yes, RGII was a bad quarterback against Tampa Bay. RGIII didn't pull the trigger on that play, needlessly scrambled, and then too a hit while throwing incomplete.
Going through the entire analysis and still shots got Joe remembering just how off the Bucs linebackers looked on play-action fakes last year, and in coverage too often.
It was a clear sign they were uncomfortable in the defense. Mason Foster also was lacking the speed to make up for much. Hopefully, athletic Bruce Carter, who is new to middle linebacker, represents an improvement.