"A Big Feel Out"
July 18th, 2015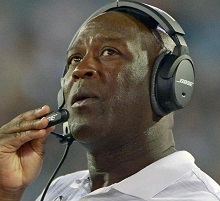 Back when Joe hung out with Herm Edwards at the NFL Owners Meetings in Arizona this year, the excitable former Bucs assistant head coach got all Tony Dungy when talking about Tampa Bay's 2014 defense.
Herm got all mellow and relaxed, sort of falling into a Dungy-Lovie style of communication. Herm told Joe all about how the Bucs simply were experiencing an ugly and inevitable learning curve for coaches and players in Lovie Smith's old school Tampa-2.
All those free agents the Bucs signed this spring, Edwards said, there was no coincidence that every last one either played for Lovie or had experience in this defense. (Keep in mind Herm had just had dinner with Lovie the previous night.)
No worries at all, Herm said. Lovie just needed to go through that teaching and weeding process, and fill holes.
Fast forward to this week, and Alterraun Verner chatted with 120sports.com, part of the Sports Illustrated family of sites.
Verner echoed Edwards' calm and boldly stated the Bucs' defense will be much better out of the gate than anything seen last year.
"I think it was just a big feel out," Verner said of Lovie's approach and takeaway from last season, "just to see what people were able to do and how he was able to use people in certain situations, according to his defense and personnel."
Interestingly, Verner downplayed the Bucs' defensive improvement in the second-half of last season, which sort of flies in the face of what Leslie Frazier and Bucs officials keep saying.
But Verner said the Bucs should be "a much, much tougher defense to start" the 2015 season. He says learning from the Bucs' own 2014 film, versus studying tape of other teams' defenses and talking in hypotheticals, will make an immense difference.
As for Verner's play last year, he went on to say that learning a new defense on the run after being slowed by preseason injuries, and playing tough teams early in the schedule, was a toxic combination.