"We're Not Going To Do The Same, You Know, Dumb Stuff."
June 25th, 2015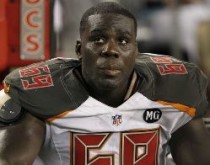 Can old coaches improve?
Tampa Bay is banking on that.
Enjoy the Demar Dotson video below. You can hear the Bucs' veteran right tackle talk about how offensive line coach George Warhop is setting new habits and telling his unit, "We're not going to do the same, you know, dumb stuff" done last year.
Dotson goes on to explain Logan Mankins is taking charge (as if he wasn't there last year for every game?) and things will be different.
Joe has every last finger and toe crossed.
Warhop is on his sixth NFL team since 1996. That's a lot of stops. And he's got no special track record of success, other than lasting a long time in the league and garnering a bunch of experience, which didn't seem to matter last year.
The Bucs' goal is to start two, second-round rookies, Ali Marpet and Donovan Smith, and Warhop is being tasked with getting three vets — Mankins, Dotson and Evan Smith — to revive off a rough year. That sure feels like very wishful thinking — with little depth to speak of behind them.
But hey, it's June, the time for optimism and happy thoughts.