Weight Loss Marks Donovan Smith Spring
June 26th, 2015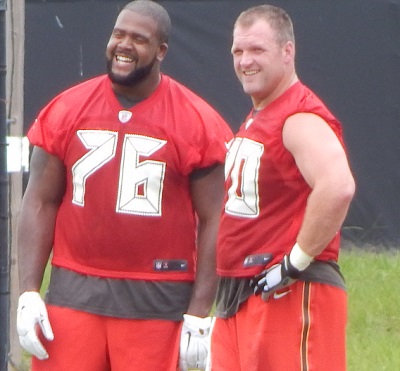 During his days as a starting left tackle for Penn State, Buccaneers rookie Donovan Smith was knocked by some as being overweight and lazy.
One Penn State media guy, a former NFL lineman, really let Smith have it.
But that wasn't the consensus on Smith. Surely, the Bucs didn't think that way and made him the No. 34 overall pick last month.
Smith joined SiriuxXM NFL Radio this week, live from the rookie symposium with Alex Marvez and Gil Brandt.
Brandt, the legendary personnel man, raved about Smith during the interview and asked Smith if he was still  hanging in there at 338 pounds, his weight at the NFL Scouting Combine in February.
Smith replied that he's down to 325 pounds on his 6-6 frame, and Smith seemed quite proud.
This is good news, especially for those skeptical of Smith.