The New McCoy; Rocked Up And Angry
June 1st, 2015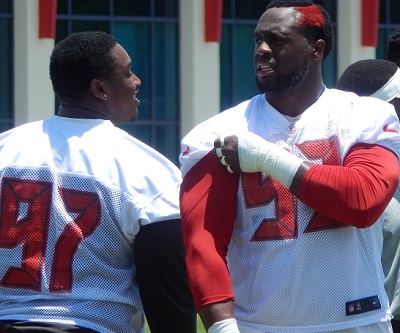 Those who follow Gerald McCoy on social media and regularly read JoeBucsFan.com know that No. 93 has had a bitter edge to him this year.
It's like he's turned into the "angry worker" Raheem Morris asked all his players to become.
Raheem coveted players who were pissed off about something and never let it go. That anger drove them every last hour. Raheem named his share of "angry workers" through the years, with Ronde Barber, who believed he was snubbed in the 1997 draft, as the ultimate example.
McCoy has proclaimed emphatically too the world that he's sick of losing, and McCoy explained that he doubled his workouts this offseason and is raising the heat on his teammates.
One look at McCoy (see Joe's photo above) and you can tell he's more rocked up than ever. And his teammates appreciate his angry edge.
Starting defensive end Jacquies Smith said losing forces an intense guy like McCoy to reinvent himself.
"I like that," Smith said of McCoy sick-of-losing talk. "You never want to be on a losing team if you're a competitor, you know. You never want to continue losing. You feel compelled to adjust your attitude and do something about it. Gerald's worked hard this offseason. He's always been a hard worker, and he's even working harder than he's ever worked. And we kind of have to follow his lead and bring what we need to bring to the table. I know I've worked harder than ever, too."
Joe's expecting a true monster season of McCoy, one that could thrust him into Player of the Year chatter. The sheer absence of Michael Johnson's weak-ass efforts should help immediately.