Quiet Jameis
June 4th, 2015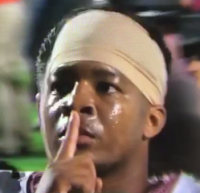 When "America's Quarterback," Bucs signal-caller Jameis Winston, was at Florida State, he was anything but timid. Loud, brash, confident, often FSU coach Jimbo Fisher had to reel in Jameis to lasso his emotions.
So is Jameis flaunting that famous outgoing personality with the Bucs? Well, not really. In fact, if one is to ask Bucs WR Vincent Jackson, Jameis knows he's the new kid on the block and is easing himself into the Bucs' locker room.
"He's been a little bit quiet," Jackson said today after OTA practice. "He knows to pick and choose his times, every now and then. But for the most part he just comes and does his work and we really appreciate that."
Lovie Smith thinks Jameis' reputation preceded him and some players thought Jay Z himself would show up at One Buc Palace, replete with entourage.
"I think it is all relative to what the expectations were," Lovie said about Quiet Jameis. "You assume he is going to come in in a limousine or something like that. That's just not the case. That's just not who he is. He is one of the other rookies. When you are rookie, you're supposed to be in the background until it's your turn to step up. It's not Jameis' time yet. It will come though, soon."
See that Jameis haters? That brash, loud, swaggering personality will be turned loose on the NFL in good time. And Joe cannot wait.
Jameis is no dummy. He knows he has to earn his spot with the team first, and then he can throw around all that swag of his.