Offensive-Minded Lovie Smith
June 1st, 2015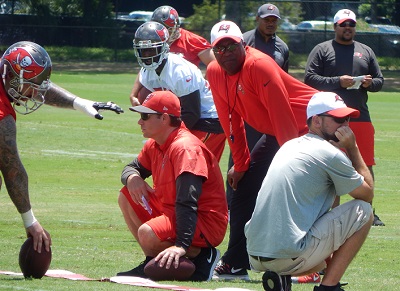 What appeared to be a typical scene at a Bucs OTA practice on Thursday felt like something more.
Joe snapped the photo above on Thursday at One Buc Palace. Evan (Dietrich) Smith was about to snap the ball in 7-on-7 work. And right in front of the guy feeding balls to the starting center was Lovie Smith, intently studying the Tampa Bay offense.
This went on for a while.
Based on Joe's observations that day — the only OTA practice open to media to date — Lovie seemed a lot more dialed into the offense than usual. Remember, Lovie is the same guy who didn't step in last year to guide the team through the loss of Jeff Tedford, and Lovie was hands off Bears offense in Chicago, so Matt Forte told Joe.
Joe doesn't know what this all means, but it could be that Lovie wants extra-intimate knowledge of the offense to help best counsel and develop his rookie quarterback.
Lovie also is in Year 2 of his Bucs defense, with four free agents added who are very familiar with the system. So his time should be less needed on that side of the ball.
Trust that Joe will keep an eye on Lovie's movements throughout the spring.