No Sign Of Ali Marpet
June 9th, 2015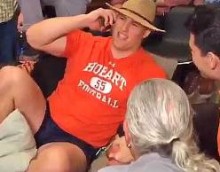 Joe has scrutinized the dozens of photos released by the Buccaneers from Day 7 of OTA practices yesterday. The session was closed to media.
No. 74 is nowhere to be found.
That's rookie guard Ali Marpet, the second-round pick from Hobart College, a Division III football factory.
Marpet was said to have a hamstring injury, but there were no specifics or timetables reported. Joe must assume the injury is lingering, keeping him out of no-pads practices, aka underwear football, and valuable learning time.
It's also worth noting that Marpet is the only unsigned Buccaneers rookie.
This photo array from Buccaneers.com ends with Mike Evans making a pretty corner-of-the-end-zone grab with Major Wright a step away (at least get your hands up, Major!). In the background, Patrick Omameh (tackle) and Kadeem Edwards (guard) are seen on the right side of Evan (Dietrich) Smith one what Joe presumes was the first-team offensive line.