New Era
June 3rd, 2015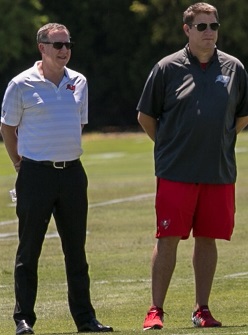 Fans screamed at former Bucs rock star general manager Mark Dominik for not spending enough in free agency. When he did, fans turned on him for buying the wrong players.
Man, sometimes you just can't win.
When Lovie Smith and AC/DC-loving GM Jason Licht went all drunken sailor with the Team Glazer checkbook last year, fans rejoiced. But the team went 2-14 and won the Chase for Jameis.
This year, the Bucs didn't spend much cash. Frankly, given the success of free agency the past three years, it was a wise move.
Instead of trying to bag the big fish, the Bucs went the secondary route, buying players who fit — and understand– what they want to do defensively. Smart move.
Writing for The Sporting News, Jason Fitzgerald believes you won't soon see the Bucs trying to buy a playoff berth.
After a few years of poor returns on some pricey investments in free agency, the Buccaneers pulled back in 2015 and began the process of gutting the roster. Despite rarely using signing bonuses in their contracts, the Bucs rank in the top three in the NFL in dead money due to the excessive guarantees given to players like Michael Johnson and Anthony Collins who were released after just one season with millions of dollars in guarantees on their contract.

Tampa ranks near the bottom of the NFL in top-player spending, despite allocating over $26 million to Gerald McCoy and Vincent Jackson. Both of their defensive and offensive allocations rank in the bottom five across the league and this year they spent most of the offseason targeting some budget players, most of whom were defensive players formerly of the Cowboys. Tampa's front office remains committed to contracts that contain relatively steady cash flows, which has led them to overpaying players in year's past in free agency.

The team is using 2015 as a reset of the franchise with veterans being replaced with young draft picks, primarily on offense. The Buccaneers looked to rebuild the entire core of their offense with their first three picks being spent on a quarterback and two offensive linemen. If those three players work out it will give the Buccaneers significant cost savings at expensive, cap killing positons.
Cap, schmap. Joe doesn't two hoots about the salary cap and probably never will. Until demonstrates that X-amount of dollars spent = Y-wins, Joe won't care about the salary cap. It is empty background noise.
But a potential change in philosophy by the front office does interest Joe a great deal.
What primarily determines how well a team is rebuilt isn't the budget, but the success of the scouting department and front office.
Sooner or later, the won-loss record reflects how well a team drafts. It is one of the NFL's greatest truisms.