Learning From The Vets
June 2nd, 2015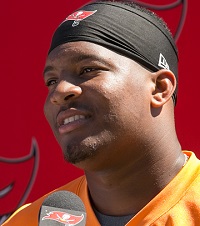 In a wide-ranging interview with "America's Quarterback," Bucs signal-caller Jameis Winston, BSPN's Sal Paolantonio got Jameis to speak on a number of subjects.
One was interesting. Sal Pal noted Lovie Smith is raving about Jameis' leadership and work ethic. When asked about it, Jameis said veterans like Gerald McCoy and Vincent Jackson expect no less of Jameis to work 110 percent to right the Bucs' ship.
The full video is below courtesy of BSPN.