Jameis Winston Must Instruct
June 5th, 2015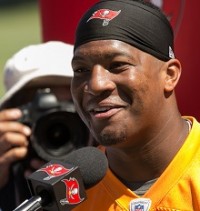 Dirk Koetter came to lead Tampa Bay's offense and didn't bring a single player with him from his Falcons regime.
(Sorry, Joe's not counting the reserve offensive lineman with zero career snaps who was with the Falcons last year.)
So that puts even more pressure on the starting quarterback to ensure the offense is aligned properly and everyone knows where they're going.
In the NBC Sports video below, Brian Westbrook and Chris Canty talk about Jameis Winston, America's Quarterback, and ways he can be a leadership force on the Buccaneers as a rookie.
Westbrook makes an interesting point about how, right now, guys in the Bucs' huddle don't know what they're doing and will look to the quarterback for answers. If Jameis delivers, or barks them in line before they even ask, then he'll cement himself as the quarterback-in-chief.
It's a high pressure situation for young Jameis with a new-to-all offense, something Marcus Mariota is not dealing with in Tennessee.