Don't Expect A Defensive Leadership Change
June 5th, 2015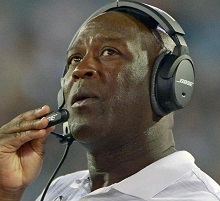 Joe really had a good laugh reading Rick Stroud's story about Lovie Smith possibly getting more involved on the defensive side of the ball this year.
Lovie appeared to leave the offense in the hands of a guy completely overmatched last year, and his trusted veteran QB was at the helm. Never once did Joe hear a peep about Lovie getting disproportionately involved on the offensive side of the ball last year.
Special teams were — and are — in the hands of Lovie's old friend and handpicked guru Kevin O'Dea.
So we're to believe Lovie will spend more time this year on defense?
Joe's having trouble believing that, unless Leslie Frazier is much closer to getting fired than anyone might think.
Bucs officials, including Frazier last month, are happy to spout out all kinds of stats explaining how stout the Tampa Bay defense was during the final 10 games of 2014. Frazier was calling them Top-5 in many categories.
Joe sure hopes Lovie invests more time this year on the quarterback position, specifically counseling, teaching and mentoring his prized rookie QB.
Also, on offense is where Lovie's core of youngsters reside after drafting a dozen or so offensive players the past two years. It's hardly a stretch to say the head coach's impact is needed more on that side of the ball.