Deep Ball Fantasies
June 4th, 2015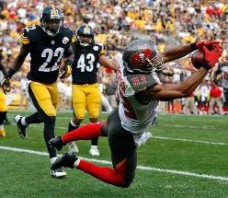 The dream came alive for a moment yesterday on the practice fields of One Buc Palace. No, not Joe and Rachel Watson again.
What dream, you say? It's the fantasy of every red blooded Tampa Bay area resident who doesn't stain the community by rooting for out-of-town NFC teams: the Bucs having an explosive offense.
Heck, even the general manager got into the fantasy last spring, coining the "Dunkaneers" and arousing a nation of Bucs fans. When the Bucs drafted Jameis Winston, America's Quarterback, everything kicked up a notch.
Jameis connected deep with Vincent Jackson yesterday, one of those anticipatory throws that make cornerbacks look inept downfield.
Enjoy, the video, and don't blame Sterling Moore.