Bolts' Stanley Cup Rating Can't Top 2013 Bucs
June 6th, 2015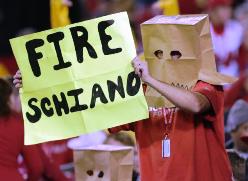 Joe enjoys hockey, even played as a kid on streets, driveways and tennis courts with their nets removed for winter.
But Joe's really getting annoyed by all the loudmouths spouting how Tampa likes the Lightning more than the Buccaneers.
Stop the nonsense.
Remember the MRSA-infected, 0-8 start of the New Schiano Order in 2013? Remember how dreadful that 4-12 team was with the NFL's worst offense? Well, the average local television rating for a Bucs game that season was higher than the Lightning rating for Game 1 of the Stanley Cup in prime time Wednesday night.
Per, CBS Sports, the Bolts pulled a stunning 17.9 Nielsen rating Wednesday in the greater Tampa-St. Pete-Sarasota market, the 13th largest in the nation, just ahead of Seattle and one behind Detroit.
Schiano's Bucs in 2013 averaged a 19.1 rating per game in the market. Under Lovie Smith last year, the miserable Bucs sank to a 17.2, something America's Quarterback, Jameis Winston, should jack up at least 20 percent.
Tampa is a football town in a football world.
God Bless America. And Go Bolts!