Big Changes Coming To Training Camp?
June 18th, 2015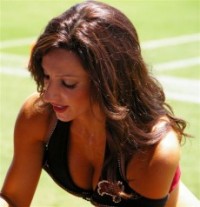 The Bucs have yet to announce training camp details. Look for that next week, and it might come with big changes.
Joe is interested in how the team might handle large, Jameis-Winston-fueled crowds at One Buc Palace, and in something Lovie Smith said yesterday.
Back when Tampa Bay left Disney World and brought training camp to the new One Buc Palace, free tickets for camp were distributed. It was a move designed to avoid an overflow crowd that couldn't be accommodated effectively.
That idea faded pretty quickly because it was unnecessary. Crowds have been at capacity at times, but fans haven't been turned away in droves after flooding the scene.
Will the Bucs go back to a ticket system? Joe has to believe Jameis will draw quite a lot more people. If he doesn't, then there's a problem.
Second, Lovie Smith suggested practices could be at night.
"We're talking to people who can predict the weather better than we can and we may adjust a little bit," Lovie said. "Eventually we're going to have lights or something like that and it won't affect us very much, but hopefully we'll get lucky again this year."
Yes, Joe was one of those guys back in the day out at the University of Tampa bleachers watching Bucs training camp, double sessions, day and evening. A night practice option is a good one to have. If the Bucs ever finally leave the NFL cellar, then they'll have multiple night games on their schedule.
For 2015, Lovie said most training camp practice sessions will be in the prime afternoon heat, but he will be mixing in some a.m. times, a break from the swelter. With the Bucs opening the preseason in Minnesota on Saturday, Aug. 15, the first practice is expected to be Aug. 1.