Alstott Says Jameis Is "Very, Very Professional"
June 25th, 2015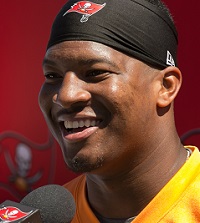 Those who know Bucs icon Mike Alstott know he's not one to say much, and not one to throw around false praise.
But the A-Train, a soon-to-be 2015 Buccaneers Ring of Honor inductee, had plenty of love for Jameis Winston at a swanky Tampa sports banquet known as the Sneaker Soiree last night.
Alstott joined a live broadcast there with Steve Duemig on WDAE-AM 620. The dean of Tampa Bay sports radio asked Alstott about his impressions of Jameis and how he would perform as the new leader of the Bucs offense. Jameis attended Alstott's charity foundation weekend event in Clearwater in April.
"Take football out of it. He's very, very professional, very kind," Alstott said of Jameis. "You know, even spending 48 hours with him at my [charity] event. On Mother's Day he talked to my wife. First thing in the morning, 'Happy Mother's Day.' On Father's Day he texted me, 'Happy Father's Day, Mr. Alstott.'

"He is a kind warm, gentle. He was there at all the events. He didn't just pick up and leave after a half an hour of 45 minutes. He stayed for the duration."
Alstott went on to explain that Jameis mingled well with corporate types and NFL veterans. He also called Jameis "very, very, very intelligent." And current Buccaneers have given rave reviews of Jameis in recent days, Alstott said, "They like him."
Of course, Jameis won't lead the Bucs to victory by talking to Alstott's wife on holidays. But a gesture like that does speak to his maturity and selflessness at 21-years-old — with a fresh seven figures in the bank.
Man, Joe can't wait to see what America's Quarterback has to offer. Jameis takes the field in Minnesota in just 51 days.
(Enjoy the full Alstott audio below.)