Warhop: Should Have Played Pamphile
May 16th, 2015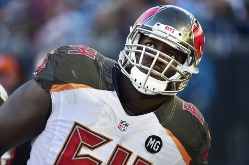 Combine what happened on the field in December with what we now know was Bucs general manager Jason Licht fixation on "America's Quarterback," Jameis Winston, and it makes you go, "Hhhhmmm?"
The Bucs couldn't wave goodbye quick enough to turnover-prone Josh McCown, but never benched him for Mike Glennon? Another was running off left tackle Anthony Collins (not that it was unwarranted).
Then there were "The Milk Cartons," the rookie offensive linemen who may as well have had their photos on a carton of Publix milk. Yes, Kadeem Edwards was hurt early, but do you remember him making any contribution when the offensive line was a complete and total jailbreak in preseason?
Same with the second milk carton, Kevin Pamphile. The only play Joe remembers him making was giving up a key sack in the final game against New Orleans to help seal the Chase for Jameis.
It now seems, in retrospect, the Bucs are wishing they would have played Pamphile at left tackle more. That's the word from Woody Cummings of The Tampa Tribune who notes offensive line coach George Warhop is doing "what-ifs" this offseason.
"When he was in there, there were some ups and downs, but he played enough that you look and you say, 'OK, you might have something there,' " Warhop said. "So if I could do it all over again, I would have doubled his snaps. That way we would have a much better picture of what he is.

"I think he has grown a lot in terms of being a pro, understanding what it takes, the time you need to put in, the work ethic you need to be successful. That was all a work in progress a year ago, but I think he is plugged in to that now."
Some five months later, Joe is glad none of this happened. Can you imagine if the Bucs gagged like a choking dog and blew the chance to draft Jameis? Joe would be in a straight jacket about now.
Whether Pamphile, who is currently penciled in as the starting left tackle, amounts to anything is still to be determined. Thank goodness we didn't find out last season.