Vegas Days Are Over At Defensive End
May 27th, 2015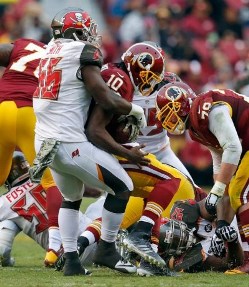 Joe's perspective regularly differs from his Bucs media peers.
Sometimes, the contrast is so drastic that it drives Joe to repeatedly bang his head against a wall.
Yesterday wasn't one of those days, but it came close. Pat Yasinskas, the official Bucs blogger of ESPN.com, cranked out a story all about how Tampa Bay is gambling at the defensive end position.
Joe would counter that the Bucs, in fact, have stopped gambling at DE.
A gamble came last year, when the Bucs paid a fortune for ghostly and ghastly Michael Johnson, who was coming off a 3 1/2-sack season and didn't want to leave his beloved Bengals brothers.
Another gamble came when the Bucs repeatedly played Johnson even though he was dreadful.
In 2013, the Bucs gambled that Adrian Clayborn, less than a year from major knee surgery, could perform at DE. They also gambled that Daniel Te'o Nesheim, who actually started 12 games that year, belonged in an NFL uniform. He was soon out of football at 26 years old.
In 2012, Tampa Bay ditched a stout defensive end named Michael Bennett, who has led the Seahawks in sacks the past two years. They gambled that Da'Quan Bowers could come close to replacing him. The results were dreadful.
No, the gambling is over.
Jacquies Smith (6 1/2 sacks) emerged last season at left defensive end. He broke through in the second half of the season and had William Gholston capably backing him up. Both return, and both can play various positions.
The Bucs brought in George Johnson, six sacks in part-time duty last year with Detroit. The Bucs simply want to see him play like he did last year. That's nothing like the heroics they expected from Michael Johnson and others before him.
They also bring back T.J. Fatinikun, Lawrence Sidbury and Larry English. That's hardly a wrecking crew, but at least the Bucs have had a long look at these young guys and are confident they can contribute.
Maybe next year, the Bucs will invest at defensive end. For now, they're going to roll with live young bodies and expect to improve. That should be pretty simple, and hardly a gamble.