Trade-Down Crowd Had Little Hope
May 20th, 2015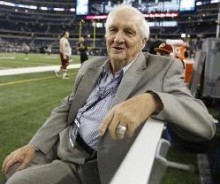 The godfather of modern scouting said this was a terrible year to trade away a quality draft pick.
Of course, Joe's talking about storied Cowboys architect Gil Brandt, the wise old sage who still works for NFL.com and SiriusXM NFL Radio, and has his hand in the NFL Scouting Combine operations.
Brandt took to Twitter yesterday to announce that teams looking to trade down out of first- and second-round draft picks were stymied.
Joe references this because loads of Bucs fans wanted Tampa Bay to hand over the their divine rights to America's Quarterback, Jameis Winston, and collect a bounty of draft picks for that No. 1 overall pick. JoeBucsFan.com polls repeatedly showed more than 10 percent of fans were in that boat.
Joe still can't believe so many fans couldn't grasp the Buccaneers' beyond-urgent need to draft a quarterback with that No. 1 overall pick. Joe suspects these same folks will shed a tear when Josh McCown returns to Tampa with the Browns in August.