"This Is Where You Build Championships"
May 2nd, 2015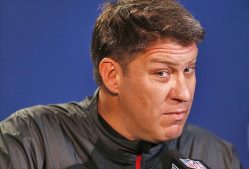 Don't think Rounds 4 through Rounds 7 mean much?
Think again.
Hall of Fame general manager Bill Polian was just all fired up on ESPN talking about how the these rounds and comprise one-third of a team's roster.
"This is where you build championships," Polian said.
There is no question depth and finding a starter or two in the late rounds in critical. It happens every year, just not very often with the Buccaneers. Tanard "Bongs" Jackson was a hell of a rookie safety in 2007, on what was the NFL's No. 1 ranked pass defense.
There are always plenty of gems, if your personnel department is good enough to find one.
Think of the three strong years the Bucs got from mattress-in-the-yard, blade-in-the-thigh receiver Mike Williams, a fourth-rounder in 2010. The Bucs also got strong play from seventh-rounders Sammie Stroughter, Cody Grimm and Erik Lorig during the Dominik-Raheem era. Jermaine Phillips was a hell of a fifth-round safety in 2002.
C'mon, Bucs. Find an undervalued stud or two.