"The Guys That Make Plays, I Think They Should Be The Leaders"
May 5th, 2015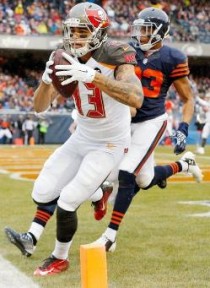 A very confident, relaxed Mike Evans took to the One Buc Palace podium this afternoon and had plenty to say.
Joe will bring you plenty, but first is a take on leadership by Evans.
Joe asked Evans whether he had a goal to step up and take a major leadership role this season now that he's not a rookie.
Evans said, Yes. The 21-year-old wide receiver said he was more vocal as a leader late last season and wants to do more this year.
"The guys that make plays, I think they should be the leaders," Evans said.
Joe agrees wholeheartedly. Evans, and Jameis Winston, are the kinds of passionate 21-year-olds Joe would like to see being heart and soul of the Bucs' offense.