Tampa Bay Lightning Go 0-For-10
May 29th, 2015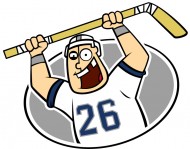 A man-on-the-street radio segment revealed Tampa is a town that isn't quite hockey crazy.
In fact, the following is downright stunning and hilarious.
WDAE-AM 620 host Marc Ryan set out to find out just how Lightning crazy Tampa is with the Bolts deep in the Stanley Cup chase. So he grabbed a microphone and a recorder and hit the streets within a couple of miles of the Ice Palace.
Ryan talked to 10 people, and the Bolts struck out. He also exposed some frauds along the way.
Joe wonders how the Bucs would fare in a similar experiment. Joe suspects/hopes it would be much better. Tampa Bay is just too much of a football town.
Enjoy.