Rookie Camp Practice Notes & Observations
May 8th, 2015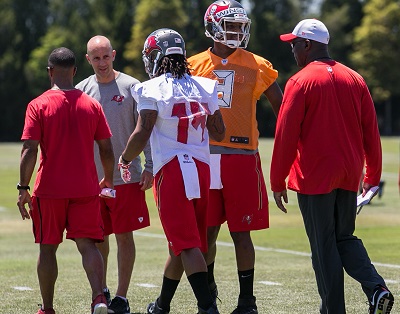 It's Joe's notes and nuggets from Day 1 of rookie minicamp!
Man, Joe was fired up to see some football on the broiling fields of One Buc Palace. Tryout players and draft picks gathered for the first time — for their first practice. The first hour was open to media.
*Jameis Winston mania begins. But young Jameis did not part the Red Sea or do anything worthy of a magazine feature. Joe can see the leadership, however. Jameis carries himself with a lot of energy and plenty of intensity, and he's loud barking out calls. Jameis also is all about accountability. He's very quick to take ownership of a bad throw. Once he even screamed out, "Sorry," after throwing a wounded duck of a ball on a 20-yard toss. Calm down haters, that ended a drill and it sure seemed liked it slipped out his hand.
*On the field, Jameis clearly has pop on the ball, but touch, too. Joe liked seeing Jameis be very comfortable in three-step drops. Joe was envisioning plenty of those from offensive coordinator Dirk Koetter.
*Operation Warhop: Offensive line coach George Warhop played a lot of good cop/bad cop. He liked plenty from new left tackle, second-round pick Donovan Smith. But he also screamed, "Stay on your angle!" during a run block/get-off exercise. Ali Marpet is one thick dude.
*Bryan Glazer was in the house and on the sidelines, apparently seeking a close-up view of all things Jameis like any red-blooded Bucs fan. Team Glazer was spotted in an animated conversation with general manager Jason Licht.
*With lots of tryout ball catchers on the field, and a shiny new quarterback, there was plenty of miscommunication. One was so bad, with Jameis throwing to undrafted free agent tight end Taylor Sloat out of UC-Davis, coaches actually called for a do-over. That rarely, rarely happens. Pass complete on Take 2.
*Hats off to tryout tight end Ken Biggins out of Houston Baptist. He made an amazing one-hand grab on a low throw from Jameis.
*Needlessly juggled ball by sixth-round pick Kaelin Clay, the wide receiver from Utah.
*Tryout receiver Donteea Dye had several drops.
*Great catch by undrafted free agent wide receiver Rannell Hall on a ball slightly behind him from Jameis. Poor Hall, Jameis threw him what looked like a bad pass, but coaches were all over Hall for making the "wrong slant." Looks like the kid will be seeing Arena League employment, like most guys here.
*Kenny Bell, rookie fifth-round pick, clearly has what coaches like to call a good catch radius. It's early, but he looks like he's got some real wide receiver hands.
*Drop! Wide receiver Chandler Jones from San Jose State.
*It's just one of those things at rookie camp. Things don't always appear as they seem. Joe heard "nice pass" yelled by coaches after several incompletions.
*Cornerbacks coach Gil Byrd, perhaps the most animated and entertaining of Bucs assistants, was in midseason form. A gem of the day: "Don't be slow!!" he yelled at tryout cornerback Lowell Rose. There also were plenty of screams at corners, "Don't grab!" referring to pulling jerseys not being permitted, by NFL game rules, as well as strict practice rules per the NFL labor agreement.
Stick with Joe for much more through the afternoon.