Roger Goodell Talks Jameis Winston
May 2nd, 2015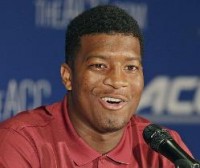 Bucs fans had heard a little about Jameis Winston's pre-draft meeting several weeks ago with NFL Commissioner Roger Goodell.
Well, after Winston was selected by the Bucs, Goodell talked about it.
Speaking on BSPN, Goodell acknowledged the pre-draft meeting "was rather unique" because it wasn't a case of a prospect talking to him in the hours before the draft.
The meeting was at Winston's request and the league was happy to go through policies and available resources with Winston.
"He was very attentive and I think understood," Goodell said. "He really, he spent several hours with us. He took it seriously. He spent the time. He made sure he was listening to everyone and engaged with everyone."
The commissioner's body language in the video below sure makes it seems like Winston won him over.