Logan Mankins For M.I.P.
May 11th, 2015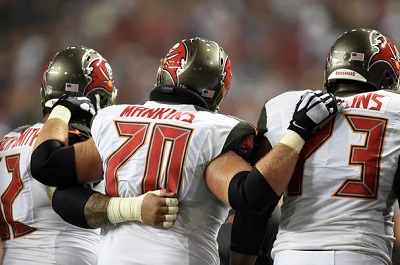 Once upon a time, the last time the Buccaneers were a good football team, two no-name rookies and a dude named James Lee were dominating on the Tampa Bay offensive line.
This should bring a glimmer of hope to the Bucs faithful.
Of course, Joe's talking about 2010, when guards Derek Hardman and Ted Larsen were blowing holes open for LeGarrette Blount, who scampered for 1,000 yards in three-fourths of a season.
Those rookies had Pro Bowlers around to mentor them. And with Donald Penn (one of those Pro Bowlers), he was on the field alongside Larsen while Davin Joseph was getting healthy and helping Hardman.
This brings Joe to barbecue-yearning Logan Mankins, the Bucs' 33-year-old left guard and Patriots icon. Tampa Bay is paying Mankins about $7 million this season to not just protect Jameis Winston, but to guide rookie left tackle Donovan Smith and rookie guard Ali Marpet, the projected right guard starter from Division III Hobart College.
Mankins might be the most important person, the M.I.P., in the Bucs locker room this season.
Even Marpet, via notes from a Twitter chat with Bucs season ticket holders posted on Buccaneers.com, revealed he plans to have his ears dialed into Mankins' every word.
Joe's rooting hard for Mankins. He has such vital roles, in addition to his spatula duties. And there's nobody behind him on the depth chart.