Learn, Not Master
May 9th, 2015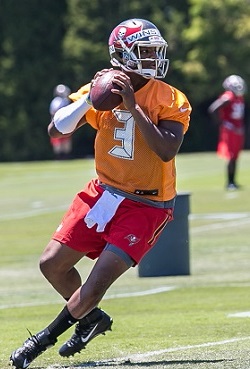 It seems for America's Quarterback, Bucs signal-caller Jameis Winston, the Holy Grail of football is mastering the playbook.
It may never happen but the key is absorbing as much as possible.
That's the word from Jameis.
He seemed to scoff at learning Bucs offensive coordinator Dirk Koetter's playbook. Rather, Winston wanted to improve each time he takes the practice field.
"You are never going to be able to master the playbook," Jameis said. "I just believe you are going to get better every day. That is the path I am taking and I hope it does me well.
That seems like an intelligent answer. Jameis, who admitted he was up until 1 a.m. studying the Bucs playbook Friday morning, isn't going to stress out by trying to memorize each nuance of the playbook in two weeks. Rather, he is going to do what Bucs brass expects, improve each day, every day.
As long as a player continues to improve, what more can you ask?