Josh McCown Was Just Awful
May 21st, 2015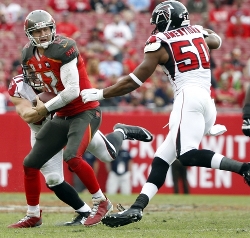 Oh, those numberscrunchers are at it again. This time their calculators are shining light on an interesting subject, and that is a quarterback's ability to handle pressure.
It shouldn't shock Bucs fans that both Josh McCown and Mike Glennon struggled last year playing behind the jailbreak that was the Bucs offensive line.
Of the six worst quarterbacks under pressure, McCown and Glennon were in that group. Joe finds it interesting that McCown is mobile, so he should have been able to use his feet to get out of trouble. He didn't.
What really jumped out was that Steve Palazzolo, who did the work on this project, listed all the starting quarterbacks and how they did when not under pressure. Guess what? Turnover-prone McCown was in the bottom half of quarterbacks (Glennon was in the top half of NFL starters when not facing pressure).
And folks wonder why there was a regime change at quarterback.