Jameis Winston's Speed Impresses
May 10th, 2015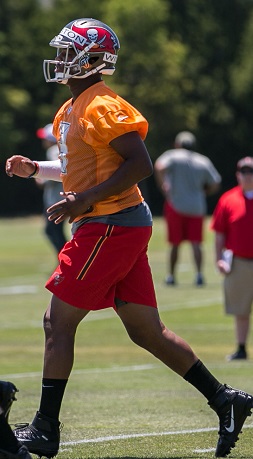 Yes, Mike Glennon runs a faster 40-yard dash than Jameis Winston. When it comes to straight-ahead sprinting, those two are like a couple of retired giraffes.
That was proven at the NFL Scouting Combine.
But Jameis is quite fast — in the classroom. Young Jameis is known as a football genius, in addition to being a special academic.
Bucs general manager Jason Licht shared with USA Today that Jameis is way ahead of his peers at rookie/tryout minicamp. He also, apparently, surprised coaches.
"I told my wife, Blair, 'I gave him an A,"' Licht said. "I thought it was a great day. He knew the offense already. He wasn't overwhelmed.

"He was even a little ahead of the game. He was already trying to change protections. The coaches were like, 'Wait up. Hold on.'

"You're right. But the other guys aren't there yet."
So what does this really mean? Not much, Jameis is supposed to be the big dog in the pack in all ways. However, Joe finds it significant that Jameis was demanding a lot of his peers, changing plays and leading under center.
Joe believes that will translate to Jameis' first practice with Bucs veterans.
The bar will be raised quickly.