Jameis' Weapons
May 20th, 2015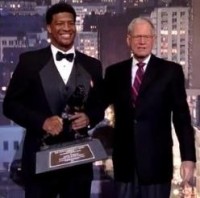 When the Bucs decided to draft "America's Quarterback," Jameis Winston, back in 2013 earlier this year, it was reasoned that Jameis would have a chance to succeed due to his weapons.
As Joe has often written, the Bucs, with Mike Evans and Vincent Jackson, have arguably the NFL's best one-two punch at wide receivers, at worst, top-five.
Well, Gregg Rosenthal is not impressed. The head honcho of NFL.com's "Around the League" blog, Rosenthal isn't doing cartwheels over what is perceived to be Jameis' cache of weapons.
There's a sense Jameis Winston has decent support in Tampa but his third best skill player teammate is … Sefarian-Jenkins? Louis Murphy?

— Gregg Rosenthal (@greggrosenthal) May 19, 2015
People like @askmetostay323 throwing out Kenny Bell. I mean that's pretty rough depth https://t.co/eplH5yPMtg

— Gregg Rosenthal (@greggrosenthal) May 19, 2015
Rosenthal has a point. After the dynamic duo, it drops off. Sure, Seferian-Jenkins should be better this year. He has had a healthy offseason (thus far), and with a season under his belt should be more comfortable, therefore, more productive.
Joe really likes the potential of Kenny Bell, sure, but he's a fifth-round rookie.
Still, Evans and Jackson accounted for over 2,000 yards receiving last year with a turnover-prone, frightened Labrador puppy as a quarterback. That is very impressive.