Hot Seat?
May 26th, 2015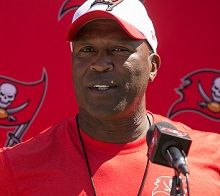 As a reader of Joe's pointed out yesterday, if the Bucs have what Joe expects to be a 6-10 season, that means in two years Bucs coach Lovie Smith has won but eight games.
No, that's not good. But Team Glazer always points to where the needle is pointing after a season. If Lovie triples his win total with six wins this fall, despite fans wanting to kick the neighbor's cat in frustration, that means the needle is pointing up.
It seems FoxSports.com believes Lovie is on the hot seat, and it really has nothing to do with wins. It has to do with Jameis Winston, "America's Quarterback."
After finishing 2-14, Tampa Bay was a disaster in Smith's first season as head coach. Smith is now staking his Buccaneers future on Jameis Winston becoming a franchise quarterback and assuaging off-field character concerns that enshrouded him at Florida State.
As the Brits would say, this is rubbish (and in Great Britain, "rubbish" means something Joe will not print). Good grief, Team Glazer itself signed off on drafting Jameis!
If anything, Jameis buys Lovie time. Only the irrational believe Jameis can lead the Bucs to the playoffs, or even a playoff run, in his rookie year. Yeah, rookies have done that before, but maybe once a decade from a two-win team.
Joe is pretty confident Jameis buys Lovie at least enough time to last through the 2016 season.