"He Simply Can't Turn Off His Competitiveness"
May 16th, 2015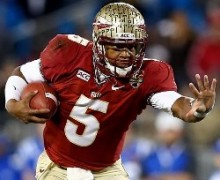 Of course, Jameis Winston's college head coach, Jimbo Fisher, is a huge cheerleader for America's Quarterback.
But Fisher revealed last night that he advised the Bucs not to hear his cheers until they went deep into Jameis' background.
Joey Johnston, of The Tampa Tribune, talked to Fisher last night Dick Vitale's annual charity gala in Sarasota. Fisher explained that Jameis is a serial competitor and the approach Fisher took during Buccaneers' pre-draft investigation process.
"I don't think you can ever compare any two players, because everyone is different," Fisher said. "I know all Jameis does is work, and he simply can't turn off his competitiveness or his ability to be around people. He loves people, and he loves his teammates.
"I told (Smith), 'Do your own investigation (about Winston's off-field behavior) before you ever talk to me' and I believe they did that. What did they get from me? Just an idea of what it's like to coach him, what motivates him, what drives him, things like that. They were satisfied with what they learned, and I truly believe they are getting a great one in Tampa."
Joe really found this interesting. So Fisher passed on a chance to talk up his guy and wanted the Bucs to do all their sniffing and digging before they came to him.
That's a head coaching steaming with confidence in a player.