"He Doesn't Even Have A Car"
May 13th, 2015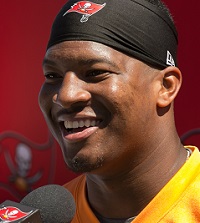 Loads of Jameis Winston observers and haters believed Jameis would have arrived at One Buc Palace on his first day driving a Ferrari with a fleet of Clearwater Beach hotties in the back seat, screaming "Shutup, bitches!"
Heck, Jameis, like many top NFL prospects, could have gotten a decent cash advance weeks ago on the many millions to be guaranteed him. He already had endorsement deals locked down.
But no, Jameis is rolling like most other rookies. He's living in the team hotel, and riding the team bus or fishing for rides to and from One Buc Palace.
Offensive coordinator Dirk Koetter noted about Jameis on Monday that "he doesn't even have a car."
Joe found this worth noting.
Yes, Joe expects Jameis to land a sweet ride — and frolic with bronze bikini beauties. But it's increasingly clear that Jameis is not the guy who's going to go wild at the sniff of cash.