Geeks Puzzled By Ali Marpet
May 11th, 2015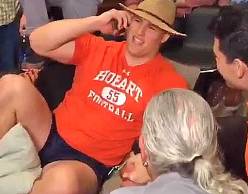 One of the great mysteries of the 2015 Buccaneers will be how Division-III offensive lineman Ali Marpet is able to handle the rigors of the NFL.
It's one helluva jump.
How much of a jump? Well, Joe has covered quite a few Division-III football games in years past. Let's just say it is glorified high school football. Plant High, or Largo or Armwood or East Lake would be able to beat a run-of-the-mill Division-III team. Really.
So in a sense, Marpet is going from high school to the NFL.
This is what has the spreadsheeters over at Pro Football Focus so confused. They love Marpet's tape at noted football factory Hobart College, but then they realize Marpet was basically manhandling tackling dummies with a pulse, notes Thomas Maney.
Round 2: Ali Marpet, OL, Hobart

Ali Marpet certainly has an impressive highlight reel playing at Hobart, but since he didn't face FBS opposition we only got an extended look at him during the Senior Bowl. He was very impressive there in both facets, finishing with a clean sheet in pass protection and a positive run blocking grade, after some good work against Houston's Joey Mbu at the point of attack.

Depth Chart Fit: Training camp should yield a better answer, but could be competing for a starting job.
The braintrust of the Bucs is confident in both Marpet and left tackle Donovan Smith becoming opening-day starters. Of course they are. They wouldn't have picked the duo if they thought they had a couple be stiffs.
But to outsiders looking in, it's one helluva gamble to start two rookies — one coming from high school Division-III — tasked with making sure your franchise rookie quarterback doesn't get crippled.