"Flameouts"
May 18th, 2015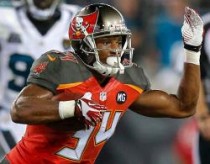 The Buccaneers' running backs depth should be soothing, especially when considering the fizzle rate of stud college backs.
Pickpocket-thwarting, Bucs-uniform-frowning, Allie-LaForce-smitten, Big-Ten-Network-hating, pedestrian-bumping, olive oil-lapping, popcorn-munching, coffee-slurping, fried-chicken-eating, oatmeal-loving, circle-jerking, beer-chugging, cricket-watching, scone-loathing, college football-naïve, baseball-box-score-reading, NPR-listening, filthy-hotel-staying, fight-instigating, barista-training Peter King, of Sports Illustrated and NBC Sports fame, tickled this subject a bit in his Monday Morning Quarterback column for TheMMQB.com.
King looks at a five-year window of stud college prospects and notes that half left their teams weeping.
Some of the backs picked in the top two rounds since 2009: Christine Michael, Montee Ball, Trent Richardson, David Wilson (injured, I know), Isaiah Pead, LaMichael James, Mikel Leshoure, Daniel Thomas, Jahvid Best, Ben Tate, Montario Hardesty, Beanie Wells. Between 2009 and 2013, 26 backs got picked in the first two rounds, and half of them are current flameouts.
Welcome to the NFL Draft. Half the players selected on the draft's first two days, sometimes more, are busts.
This is why Joe calls Packers GM Ted Thompson a draft "yoda." The man sees what others don't, and Green Bay shuns free agents year after year and keeps on winning.
Joe's not worried about the Bucs running backs. Dirk Koetter should be able to get the most of the four men available. They've all got strengths. Joe hopes ego and/or a burning desire to see one guy succeed more than another is not a factor.