Devoted To The Craft
May 9th, 2015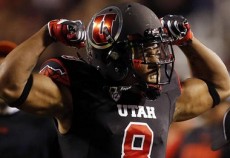 The Buccaneers drafted Kaelin Clay and his four touchdown returns for the University of Utah last year to be the next Devin Hester, or at least a return man that won't have Lovie Smith yearning for his Chicago days.
Joe went deep with Clay on the returner craft yesterday.
Clay isn't just a receiver who returns kicks and punts, he's a guy who's in love with returning. His mindset, for years, has been dialed into be a legendary returner.
"I've been doing it since I was in little league football. You know, it's' something that I always wanted to do growing up and watching Devin Hester, DeSean Jackson, Santana Moss, Steve Smith; those guys are all like my size," Clay said. "So it was something that I figured I could do and just something that I got good at.
"I told myself, 'I'm going to perfect this and I feel like every day I'm perfecting it."
"I watch a lot the great returners going back to when I was in high school. I used to go on YouTube and just type in their names and watch them do the returns. Then there was some film we had in college where we could go watch NFL film on the computer."
If that's not enough, Clay told Joe about how he relishes studying how teams kick the ball and come down in coverage.
Clay describes himself as "humble" and "a great kid."
On the offensive front, Clay recognizes that he has plenty to learn. He didn't play in a pro-style offense at Utah, and his previous two seasons were in junior college.