Bucs Add A Ballhawk
May 3rd, 2015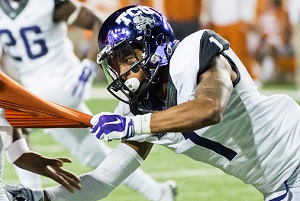 Joe doesn't get all hot in the pants for undrafted free agents, as many fans do. These guys have a slim shot to earn a roster spot.
But there's always an intriguing prospect or two in the bunch.
The Bucs' official signings will be released later, but for now Joe has an eye on East Texan (always a favorite of Lovie Smith) Chris Hackett, an all-Big-12 safety from Texas Christian University who had seven interceptions last season.
Many draft gurus had Hackett pegged as a third- or fourth-round talent, but it's suspected he fell far in the draft because of his questionable speed. Hackett is known for being a very smart, instinctive player, a coach's dream type of dude.
Lovie loves turnovers and Texans, so Hackett certainly could offer some serious competition for fourth-year man Keith Tandy.
But make no mistake, Hackett has a long road. Tandy is beloved by the regime for his special teams play.